Fall Brunch Menu
Les Pains & Viennoiseries
A la Carte
Croissant| Pain chocolat| Pain chocolat with Nutella| Almond croissant
Les Oeufs
Cocotte Parisienne
Two XL eggs baked in a mini cocotte with double cream, chives, lyonnaise potatoes and bacon Dairy Eggs Gluten Free Available
Cocotte Forestière
Two XL eggs baked in a mini cocotte with double cream, chives and lyonnaise potatoes with shiitake mushrooms Dairy Eggs Gluten Free Available
Cocotte Normande
Two XL eggs baked in a mini cocotte with double cream, chives and lyonnaise potatoes with caramelized onions Dairy Eggs Gluten Free Available
Cocotte XL
lardons, mushrooms, caramelized onions. Dairy Eggs Gluten Free Available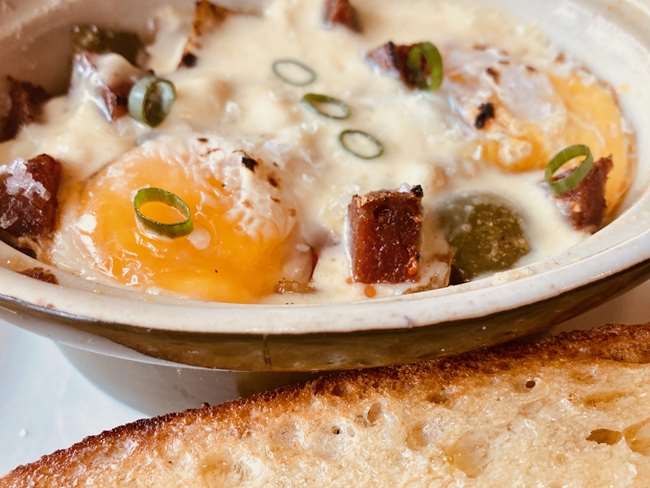 Cocotte Piperade
Two XL eggs baked in a mini cocotte with double cream, chives, chorizo, peppers, onions, garlic confit and roasted tomatoes and served with lyonnaise potatoes Dairy Eggs Gluten Free Available
Cocotte Cajun
Two XL eggs baked in a mini cocotte with double cream, blackened shrimp, peppers, onions, chives, lyonnaise potatoes Dairy Eggs Fish Gluten Free Available
MaroCocotte
peppers, onions, tomatoes, garbanzo beans, Moroccan spices. Dairy Eggs Gluten Free Available
Cocotte Nordique
Two XL eggs baked in a mini cocotte with smoked salmon, cream cheese, shallots, capers, double cream, chives, lyonnaise potatoes Dairy Eggs Fish Gluten Free Available
Omelette Nature
Three egg soft omelette served with lyonnaise potatoes and a long slice of toasted, buttered baguette Eggs Gluten Free Available
Omelette aux Champignons
Three egg omelette with shiitake mushrooms served with lyonnaise potatoes and a long slice of toasted, buttered baguette. Eggs Gluten Free Available
Dee's Omelette
Three egg omelette with shredded gruyere cheese, served with lyonnaise potatoes and a long slice of toasted, buttered baguette. Dairy Eggs Gluten Free Available
Omelette Ciboulette
Three egg soft chives omelette featuring local eggs from Fat Stone Farm in Old Lyme, served with lyonnaise potatoes and a long slice of toasted, buttered baguette. Eggs Gluten Free Available
Omelette au Boursin
Three egg soft omelette with Boursin ( garlic and fines herbes soft cheese) served with lyonnaise potatoes and a long slice of toasted, buttered baguette. Dairy Eggs
Les Salades
Salade au Chèvre Chaud
Crispy little leaf lettuce with carrot julienne, pickled radishes, melted goat cheese toasts, house made mustard vinaigrette Dairy Vegetarian
Price:
ADD smoked chicken or smoked duck breast
Salade d'Automne
Mushrooms, butternut squash, Brussels' sprouts, barley with a tahini dressing. Gluten Free Vegan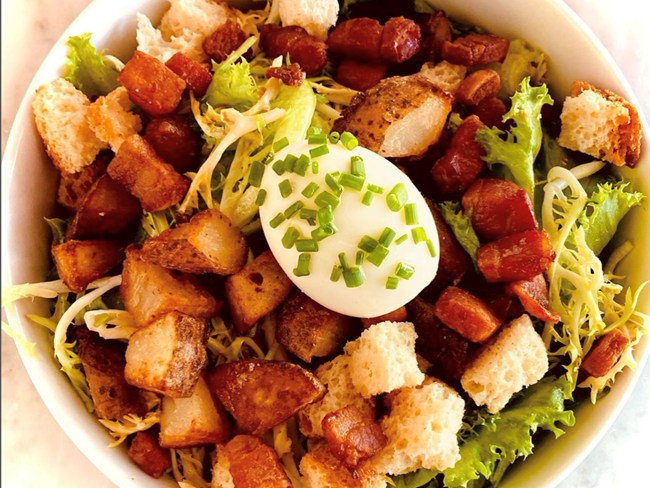 Salade Lyonnaise
Salade Lyonnaise – Frisée lettuce, lardons, potatoes, 6 minutes boiled egg, brioche croutons, shallot vinaigrette Eggs Gluten Free Available
Les Tartines
Open-faced rustic pugliese bread toasted and topped, served with house salad
Saumon Fumé
Acme smoked salmon, cream cheese, pickled red onions, capers and fleur de sel on a pumpernickel bread Dairy Fish
Fork N Knife French Dip
Angus short rib, caramelized onions and melted gruyère Dairy
Forestière
Fricassée of shiitake and maitake mushrooms. Vegan
Les Croques
Our twist on one of the most popular French dishes. Our Croques are served on a thick-cut, toasted slice of brioche
Croque Madame
smoked ham, melted gruyère cheese, Dijon and fried egg Dairy Eggs
Croque Monsieur
smoked ham and melted gruyère cheese, Dijon, no egg Dairy
Croque Louisiana
andouille sausage, gruyère, Dijon, fried egg . Dairy Eggs
Les Plats Chauds
Quiche du Jour
our house made 4" mini round quiche, served with our petite house salad Eggs
Pissaladière Goat & Leek
Puff pastry, roasted leek, melted goat cheese, petite salad aux fines herbes Dairy Vegetarian
Sides
Buttery Salty Potatoes
Dairy Vegetarian
Seasonal Fruit Cup
Gluten Free Vegan
Crispy Hardwood Smoked Bacon
Gluten Free
Andouille Sausage
Gluten Free
Petite Salade Fines Herbes
Fines herbes salade with a mustard vinaigrette. Gluten Free Vegan
Tea, Coffee & Hot Chocolate
French Press Coffee
Featuring Café du Monde: Original with Chicory | French Roast | Decaffeinated
Iced Coffee
French Roast sweetened and unsweetened
Kusmi Tea
|Russian Morning#24 (Black) | English Breakfast | BB Detox.
Les deux Marmottes
Organic herbal teas
Moroccan Mint Tea
with freshly crushed mint leaves and brown sugar
Iced Tea
Black iced tea unsweetened and sweet| Raspberry iced tea
Drinks
House Made Lemonade
Classic | Strawberry | Sparkling Lavender | Saybrook Spritz
Freshly Pressed Juice
Orange | Grapefruit
Fresh Juice
Apple | Cranberry | Pineapple
Soft Drinks
Perrier | Coca Cola | Orangina | Neon Lemon Lime | Jamaican Ginger Beer | Rosé Eldeflower.
Nectars Alain Milliat
White Peach | Pear | Apricot
Kids Menu
PB&J Strips
Peanut butter and jelly on thick-cut brioche bread strips Peanuts
ABC Pastina
Alphabet pastina served with slated butter and parmesan cheese or not Dairy